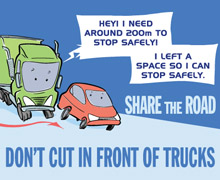 There has been a significant increase in the number of heavy and long vehicles on our roads over the past 20 years, a trend that is continuing in response to growing demand and supply of goods.
Heavy vehicles are large, not very manoeuvrable and often slow around the city. Therefore, it is important to obey traffic laws, be cautious and patient when near them.
On country roads drivers very often become impatient when behind trucks. Don't take unnecessary risks when overtaking. Always assess the risks.
Overtaking
Drivers on country roads should take extra care when overtaking long vehicles.
Before attempting to overtake, ask yourself the following:
What will I achieve?
What are the risks?
Is it safe and is it legal?
How far is it to the next overtaking lane?
How long is the truck I am overtaking and how long will it take to overtake it?
Can I see if there is oncoming traffic?
Is there a bend or dip ahead of the truck that might be obscuring oncoming traffic?
The following video provides tips on safely overtaking a truck
Many heavy vehicles travel at night when it is more difficult to judge their speed and distance from you. When following a heavy vehicle that you intend to overtake, stay well back from the rear of the vehicle while waiting for a safe overtaking opportunity. This will allow you to see further along the road past the heavy vehicle without having to move significantly to the right. It also allows vehicles approaching from the opposite direction to see you earlier.
Towing a caravan and being passed by a truck? Just maintain your speed and stay in your lane and give trucks room to move
Road trains can be up to 54 metres long and 2.5 metres wide, with up to three trailers and should only be overtaken with extreme caution:
allow plenty of time to overtake long vehicles
allow even longer in wet weather or changed road conditions
remember that trailers or caravans may sway from side to side
never overtake a long vehicle that is approaching a cross road or a dip or bend. It may be hiding another vehicle which could be turning on to your road in front of it and you could find yourself in a high-speed head-on collision
Road users should be aware of heavy vehicle manoeuvrability and adapt their driving behaviour accordingly
Slow moving vehicles, including cyclists and large agricultural machinery, such as tractors and harvesters, may be encountered on country roads.
Remember to:
overtake agricultural vehicles at slow speeds as they often swerve when approaching roadside posts or turning in to a property
travel carefully when overtaking, cornering or driving over the crest of a hill – a slow vehicle may be on or entering the road in front of you
Many trucks carry loads that could be dangerous either through fire, explosion, corrosion or radioactivity. Information about what is being carried is indicated on the vehicle's emergency information panels.
Take extra care when overtaking a truck carrying a dangerous load
Overtaking lanes are provided on some rural highways, in particular the Dukes Highway (A8), National Highway (A1) between Port Wakefield and Port Augusta and the Sturt Highway (A20). They give drivers of faster vehicles the opportunity to safely pass slower moving vehicles.
When in an overtaking lane, you must:
always use the left lane, unless you are overtaking
at the end of an overtaking lane, indicate clearly that you intend to move into the other lane, giving way to any overtaking vehicle in that other lane
when changing lanes at any time, give other road users sufficient warning by indicating clearly and giving way to vehicles in the other lane.
Stopping distances
Braking distance is the distance travelled by the vehicle once the brakes have been applied. This distance is much greater for heavy vehicles, including buses, due to their additional weight.
Keeping clear of heavy vehicles that are stopping will help prevent crashes.
Take extra care when you enter a road or change lanes in front of a heavy vehicle. Leave plenty of road space, as their additional weight also requires greater slowing distance.
The following video highlights safe driving techniques to prevent a rear-end crash
Blind Spots
A blind spot is where you are a driver lose sight of the vehicles around you. Know where a truck's blind spots are:
Beside the truck's left door.
Directly behind the truck for quite a distance – if you cannot see the truck driver in the truck's mirror, then the truck driver cannot see you.
Immediately in front of the truck.
Get clear of a truck driver's blind spot as soon as you can. Move to a position well in front of or well behind (several car lengths), where the driver can see you.
Buses and Trams
In a built-up area, you must give way to any bus displaying the give way sign if the bus is indicating to move out from the kerb. On a multi-lane road, this only applies to vehicles travelling in the left lane.
However, if the left lane is a bicycle lane or is obstructed e.g. by a parked car, drivers in the lane next to the left lane must also give way.
Do not obstruct the safe and clear passage of trams. Drivers must follow these rules when sharing the road with trams:
you must not drive in the path of a tram
if a tram approaches, you must not obstruct the tram and must move on as soon as you can safely do so (e.g. if there is a tram behind you, don't try to turn right as you will obstruct the tram while waiting to turn)
you must not attempt to overtake trams on Jetty Road, Glenelg.
More information
Sharing the road campaign - media release [PDF]