Cyclists are road users and have similar rights and responsibilities as drivers of other types of vehicles. However, cyclists are vulnerable road users, so a number of treatments are in place to make cyclists as safe as possible in the road environment.
Issues
As road users cyclists are required to share the road safely with cars, buses trucks and motor bikes. Bicycle lanes, off road paths and safe road crossings are provided to help create a safer environment for cyclists.
Initiatives
The Bicycle Network
Adelaide's principal bicycle network, known as Bikedirect, provides options for cyclists of various needs and abilities. Bikedirect provides a series of maps listing arterial roads, roads with bicycle lanes, quiet local streets and off road shared use paths.
Bicycle Lanes
Bicycle lanes help cyclists and motorists to share the road. They are marked with continuous painted lines, bicycle symbols, and bicycle lane signs. Some bicycle lanes operate during specific times such as peak hours and these times are indicated on the sign. Drivers must not drive, park or stop in bicycle lanes when it is in operation.
Paths
Off road paths provide a space for cyclists separated from motor vehicle traffic. The majority of these are shared use paths that are specifically signed. Cyclists and pedestrians should watch out for each other and be considerate when using paths.
Road Crossings
Median refuges and cyclist lanterns assist cyclists to cross the road safely.
Cyclists detection
At signalised crossings cyclists can be detected through cyclists push buttons and sensors in the road surface.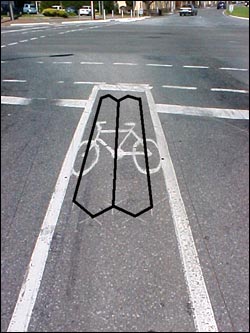 Reporting Faults
The Department of Infrastructure and Transport is responsible for all traffic and signal management and provides a 24-hour service for reporting traffic signal faults. If you notice a fault, free call 1800 018 313 and quote the Traffic Signal (TS) number shown on the signal controller box located at the intersection.