Motorcyclists
Motorcycle riders have a higher risk of death or serious injury than all other road users if they crash, mainly because they are much less protected than vehicle drivers.
Motorcyclists involved in crashes tend to sustain multiple injuries to the head, chest and legs, either from direct contact with solid objects or as a result of crash forces.
The most common types of motorcycle serious casualty crashes are single vehicle, run-off-road crashes (especially on curves) and multi-vehicle crashes involving right of way violations by other road users.
Read more information about motorcyclists involved in road crashes in South Australia (PDF, 1629 KB).
The Government of South Australia has a suite of measures to improve safety for motorcyclists outlined in Towards Zero Together, South Australia's Road Safety Strategy 2020 and Action Plans.
New motorcycle helmet laws
Regulations in South Australia have changed to allow ECE 22.05 standard helmets to be worn by motorcyclists.
United Nations Economic Commission for Europe (ECE) 22.05 was developed from an in depth study of head injuries to motorcycle riders and is used in Europe and many other countries around the world.
The Road Traffic (Miscellaneous) Regulations 2014 were also updated to remove from the list of approved helmet standards all standards and models pre-dating 1988.
Provisions allowing a bicycle helmet to be used by a motorcycle passenger under the age of six years were also removed.
The introduction of ECE 22.05 Standard motorcycle helmets and the removal of outdated standards both bolster the safety of motorcycle riders and promote consistency with the majority of Australian states and territories.
Read more about the amendments to motorcycle helmet laws.
Graduated licensing systems
Graduated Licensing Systems (GLS) are systems that delay beginners from getting a full licence by giving them the opportunity to gain experience and acquire critical road craft skills under low risk conditions.
GLS involve systematic processes of phasing in privileges to reduce the number of crashes among young licence holders.
Research undertaken by the University of Adelaide's Centre for Automotive Safety Research (CASR), resulted in 15 key recommendations being released for community consultation in early 2018. The recommendations were aimed at reducing the crashes involving 16 and 17 year old riders and reducing crashes involving motorcyclists holding a learner permit or R-Date license class.
A total of 1,553 participants responded to the consultation, while key road safety stakeholders, motorcycling industry representatives and other interested parties provided feedback through formal submissions.
The consultation outcomes report Protecting South Australia's Novice Motorcyclists: Outcomes from Public Consultation outlines the feedback from the community and stakeholders and is available here.
Education and safety campaigns
South Australia Police conduct a range of public awareness campaigns to help keep motorcyclists safe on our roads.
The current "There's a lot riding on it" campaign reminds motorcyclists to ride safely so they can return home to their loved ones.
Read more about South Australia Police's road safety campaigns.
The Rider's Safety Handbook
The Rider's Safety Handbook contains important information about riding techniques, how to cope with hazards, some road rules and is available to all motorcyclists from the MyLicence web site and Service SA customer service centres.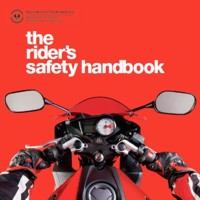 Protective clothing
South Australia is supporting the development of a national motorcycle information program that provides independent safety advice on protective clothing to motorcyclists. Similar to Consumer Rating and Assessment of Safety Helmets (CRASH) program for motorcycle helmets and the Child Restraint Evaluation Program (CREP) for child car restraints, the proposed clothing rating will give motorcyclists objective and independent information on the relative safety offered by various rider garments.
Making roads more motorcycle friendly
Motorcycle-friendly road design, maintenance and infrastructure generally benefit all road users. While road environment factors play an important role in the crash severity and occurrence for all vehicles, a more frequent combination of road crash contributory factors are found in motorcycle and scooter crashes. This is because motorcycles and scooters are, by their nature, less stable and more sensitive than other road users to any road irregularities.
Engineering of the road surface and the environment can have a significant impact on both the likelihood of a crash and on the severity of outcomes should a crash occur. Hazards can be reduced through the use of motorcycle friendly engineering products, practices and maintenance procedures.
In 2014, a motorcycling road safety audit was undertaken on 14 popular motorcycling roads near Adelaide by a purpose built data collection motorcycle. The road safety audit assessed curves, road alignment, sight lines, surface texture, hazards, signage, delineation and intersections. The audit report has provided DIT with numerous recommendations about possible motorcycling road safety improvements on these roads.
DIT invests in infrastructure on roads with high motorcyclist casualty crash rates, with a specific focus on improving safety for motorcyclists. The works have included improvements such as new road pavements, signage and line marking. The most recent works, which were undertaken in June 2016, included new pavements for the full lane width on Gorge Road on bends identified with poor pavement condition, potentially causing a hazard for motorcyclists.
Motorcycle safety is also being improved on popular riding routes near Adelaide with the installation of mesh barriers and steel barriers on guard fencing to help protect motorcyclists from colliding with posts in the event of a crash.
Read more about road safety infrastructure improvements.
Motorcycle Barriers
Motorcycle safety is being improved on popular riding routes near Adelaide with the installation of mesh barriers and steel barriers on guard fencing to help protect motorcyclists from colliding with posts in the event of a crash.
Read more about road safety infrastructure improvements.
Safer motorcycles, scooters and mopeds
ABS technology is common in passenger cars sold in Australia, however only around 20% of new motorcycles are currently sold with it. South Australia is supporting the national initiative to mandate ABS on new motorcycle models.
Motorcycle safety technology features such as Anti-lock Braking Systems, Motorcycle Stability Control and Traction Control systems can all help the rider maintain control in potentially high crash risk situations.
Returning rider training
Motorcycle riders may be at greater risk of being involved in a crash when they resume riding after an extended period of not riding, it's not simply a matter of jumping back on the bike. To help protect returning riders, DIT introduced a Rider Safe Returning Rider Course in 2015. This voluntary course is a tailored program with a focus on riding skills such as safe braking and cornering techniques and hazard perception.
Links
Motorcyclist priorities in the Road Safety Action Plan 2013-2016
South Australian motorcycle statistics (PDF)

Motorcycle anti-lock breaking system (YouTube)
Vic Safety tips for motorcyclists
Victorian Motorcycle Advisory Group
Motorcycle Riders Association of South Australia
Lucky 13 Campaign, Motorcycle Industry in Europe